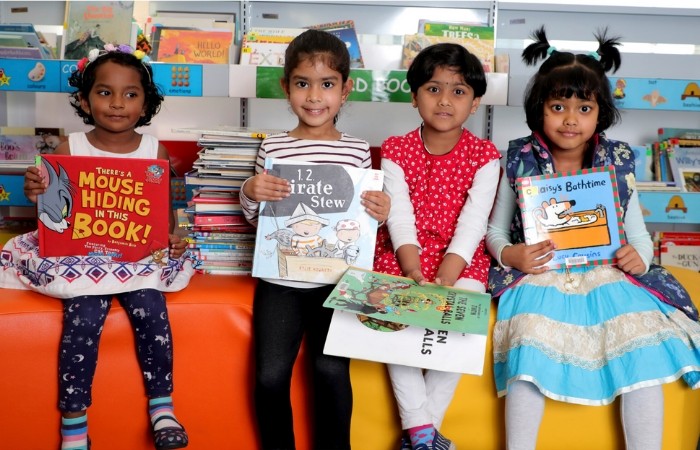 All City of Parramatta Libraries are temporarily closed.
City of Parramatta Council is reopening its libraries for limited access from Tuesday 2 June, with increased health and safety measures in line with Federal and State Government guidelines.
In efforts to minimise physical contact and protect customers and staff, our libraries have introduced a click-and-collect service where customers can pre-order items and pick them up by appointment only. Library members can reserve items online or over the phone (9806 5159) from Monday 1 June.

Dear Friends of the Library,
We encourage you to continue enjoying Story Time with your children via Story Time Videos that our Children's staff have created for you to watch In the comfort of your home. For tips about online safety, read this document.
Mother's Day - Three Stories in One
Bear Hunt at Carlingford Library
Bear where are you hiding? Hi Parents, do you know you can find more information about bears here and you can try Britannic online or read an eBook on.
Happy Hunting
Bibs'n'Books - Baby Australian Animals by Frané Lessac
Toddler Time - Pig the Pug by Aaron Blabley
Story Time - Space Stories - Three Stories in One
Bibs'n'Books - Jump and Shout! by Mike Dumbleton, Illustrated by Peter Carnavas
Toddler Time - Garden Stew by Carrie Gallasch, Illustrated by Zoe Ingram
Story Time - Silly Stories - Three Stories in One
Toddler Time - Red House, Blue House, Green House, Tree House! by Jane Godwin, illustrated by Jane Reiseger
Bibs'n'Books - Hush Says the Stars by Margaret Spurling, illustrated by Mandy Foot
Toddler Time - DUCK! by Meg McKinlay, illustrated by Nathaniel Eckstrom
Bibs 'n' Books - The Very Noisy Baby by Alison Lester
City of Parramatta Libraries sincerely thanks Australian and Overseas publishers for allowing us to record and publish videos while our normal Story Time sessions are suspended. Storytime videos presented by the Children and Youth Services team.
For more great videos visit Storyline Online and streams videos featuring celebrated actors reading children's books alongside creatively produced illustrations.